Stories of the Susquehanna Valley began as a unique research project focused on a watershed, utilizing multimedia scholarship to articulate, highlight, and learn from stories that form our region, our communities, our ecosystems, and ourselves.
This long-term collaborative project in environmental humanities, community studies, and natural history focuses on the question of what constitutes an eco-region as a confluence of cultures and ecologies. It already has helped achieve designation of the Susquehanna River as a national historic corridor.
The project emerges from a decade of planning, and longer-developed expertise, by scholars at educational institutions in the Valley, in collaboration with leaders of Native nations, community members, and undergraduate researchers. It involves partnerships with the Susquehanna Heartland Coalition for Environmental Studies and Susquehanna Colloquium, the Haudenosaunee (Iroquois) Environmental Task Force, the Chesapeake Conservancy, Envision the Susquehanna, and faculty from Bucknell, Bloomsburg University, the University of Buffalo, SUNY Binghamton, among others.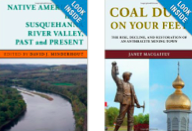 The Stories of the Susquehanna book series includes two volumes published in 2013: Native Americans of the Susquehanna Valley by David Minderhout of Bloomsburg University, and Coal Dust on Your Feet by Janet McGaffey of Bucknell. Future volumes planned include Katherine Faull's translation and study of the Moravian diaries of Shamokin, a natural history volume by a team of scientists led by Duane Griffin of Bucknell and Mark Blumler of SUNY Binghamton, The Coopers, Coleridge, and Priestley: Re-Defining Nature on the Susquehanna Frontier by Alfred K. Siewers, and a volume on Susquehanna rivertowns co-edited by Ben Marsh, Janet Jones, and Brandn Green. Many of these volumes will include dynamic online companion content such as GIS maps, geo-stories, and videography.
More information can be found at http://susquehannastories.blogs.bucknell.edu/